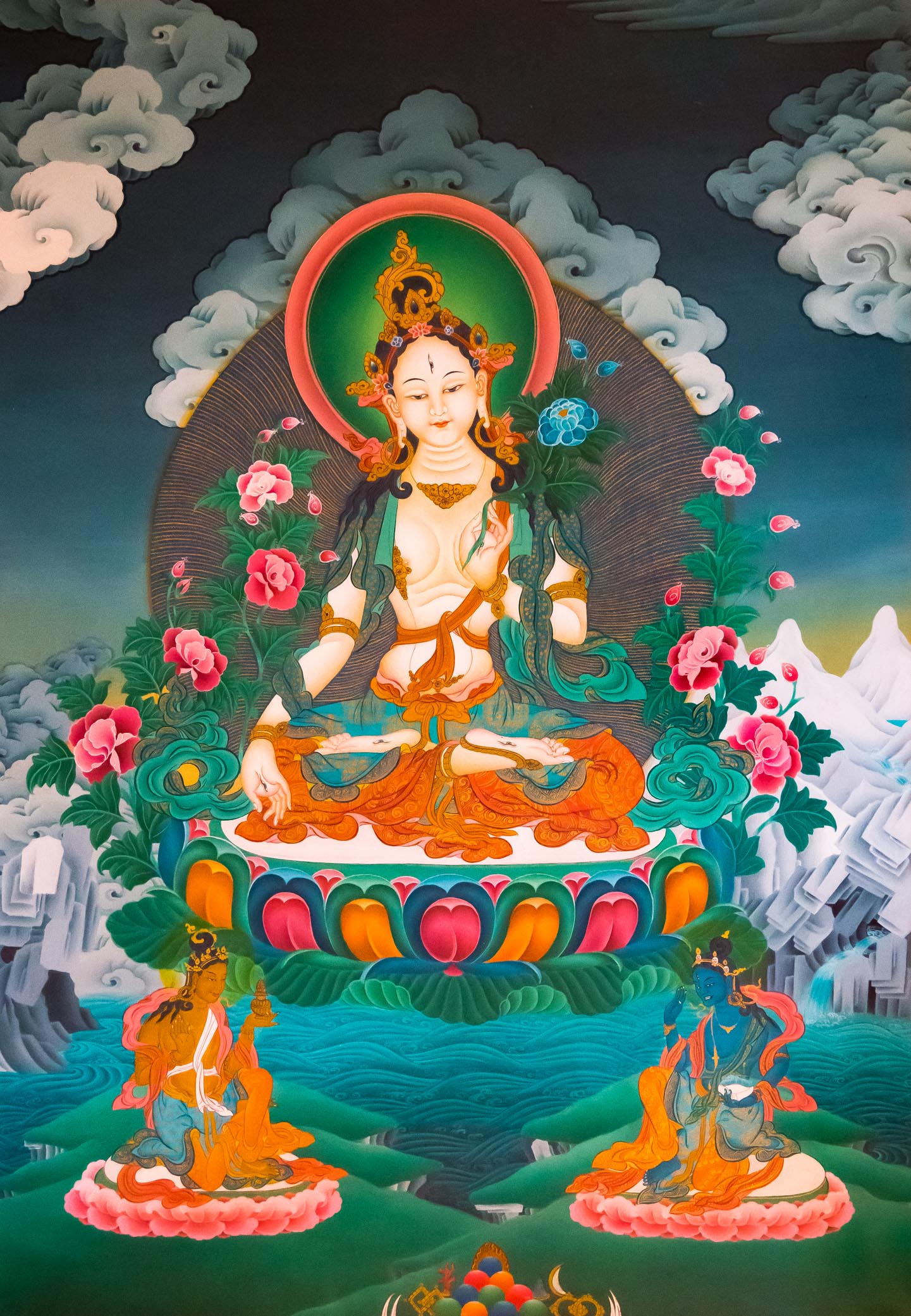 White Tara Practice Group
We have a new wide-format White Tara practice text for our online group that meets on Saturdays.
Practice Resources for White Tara Group Practice
Khenpo Sherab Sangpo has taught two video series on Noble Wish-fulfilling White Tara:
The Practice of Wish-fulfilling Noble White Tara is available via PDF on our website.
As a support for your practice, we have a Facebook White Tara Practice Group.
Visit our teaching schedule page to learn how to register for White Tara Group practice and all of our online events.
How to register for our online teachings on Zoom
If you need assistance with event registration or Zoom help, please call Colleen Hartwell at (520) 404-8489, or email Colleen Hartwell.
Public Teachings Open to Everyone
Register for a series of public teachings by Khenpo Sherab Sangpo on The Bodhisattva's Garland of Jewels by Atiśa Dīpaṃkara on Saturdays from 10 AM to 11:30 AM CST ($20 fee per class):
Use this Zoom link to register for Public Teachings with Khenpo Sherab Sangpo:

https://us02web.zoom.us/webinar/register/WN_OK_U4LXRROeFO46uH6BNMQ
Register for White Tara Practice Group on Saturdays from 10 AM to 11:00 AM CST:
Use this Zoom link to register for White Tara Practice Group:

https://us02web.zoom.us/meeting/register/tZAsduisrTktG9JAeWQS382SS351xlVIjXL5
Register for Lineage Study Group on Wednesdays from 6 PM to 8 PM CST:
Use this Zoom link to register for Lineage Study Group:

https://us02web.zoom.us/meeting/register/tZwtdOGtrDgrGteA5MYuBP685WYM8uy-LuZ5
Convert our event times to your time zone:
Click this link to convert our class times in Minnesota (Central Time Zone—CST) to your time zone:
Restricted Dzogchen Teachings
Register for 37 Stages of Instructions teachings on Sundays from 10 AM to 11:30 AM CST:
These dzogchen teachings with Khenpo Sherab Sangpo are not open to the general public.

Please register only if you were a member of Group 1 or 2 of the 37 Stages of Instructions and have completed your ngöndro, received pointing-out instructions from Khenpo Sherab Sangpo in October 2020, and were registered for this series of teachings in 2021.

Khenpo Sherab Sangpo will not make exceptions to these rules.

If you have questions about whether this applies to you—before you register—please call our Teachings Coordinator at (651) 647-6767, or email Kate Thomas (Gyurmé Chötso) and she will be happy to help you.

---

Use this Zoom link to register for 37 Stages of Instructions with Khenpo Sherab Sangpo:

https://us02web.zoom.us/webinar/register/WN_zopvN592S2iI_lktOLTqJA