To practice the good heart of love and compassion, there is no need to become a Buddhist. Whoever we are, we need a sincere, non-deceitful, kind heart. If we have it, we will definitely have a happy life and we can powerfully benefit others. The focus of my teachings is to guide my students in developing their bodhicitta, a kind heart filled with love and compassion for all living beings.
Khenpo Sherab Sangpo
Support Us
If you enjoy learning about meditation and Tibetan Buddhism via Khenpo Sherab Sangpo's online teachings, please make a donation to support us. We are a 100% volunteer-staffed, non-profit organization that relies on our donors to make Khenpo's teachings possible. Thank you for your generosity and kindness!
37 Stages of Instructions
Meditation with Khenpo Sherab Sangpo
Our meditation retreats and classes are open to students regardless of whether you are a Buddhist or not. We welcome you to join us if you would like to learn how to meditate or if you are curious about Buddhist philosophy.
Please note that teachings for 37 Stages of Instructions: Group One & Group Two are only open to students who have received prior approval from Khenpo Sherab Sangpo to attend. Please no drop-ins to this class series. These students have committed to a five-year practice schedule as a group. Thank you for your understanding.
Questions? Contact our Teachings Coordinator, Kate Thomas (Gyurmé Chötso) at 651-647-6767, or email [email protected]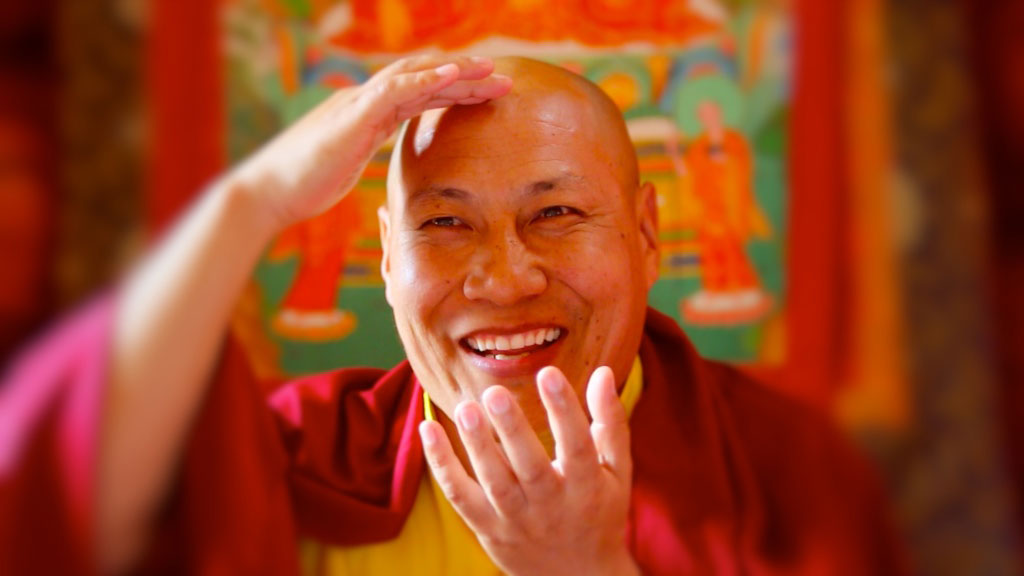 Working with Relationships Meditation Retreat
Khenpo Sherab Sangpo will teach on working with relationships in our daily life.
Every buddha in the past has depended on other living beings to obtain enlightenment (liberation). Our relationships are our primary ground of practicing the path of compassion, love, and kindness.
As meditators, we develop along the path of bodhicitta (unconditional love) by serving the needs of other living beings. Our experiences in our relationships with our family, friends, or co-workers help us to develop our wisdom of how to live a meaningful life. So, for this reason, working with our relationships skillfully is one of the greatest methods that Buddhists along the path strive to develop until they obtain the capacity to serve all living beings with great love and great equanimity.
Retreat includes teachings and guided meditation by Khenpo Sherab Sangpo.
Open to all who wish to practice bodhicitta to benefit all living beings.
Time: Saturday, March 24, 2018; Retreat center opens at 8:30 AM, with teachings from 9 AM to 4 PM.
Retreat Center:
Bodhicitta Sangha–Minneapolis
Tergar Meditation Center
Fisk Building
1621 East Hennepin Avenue, Suite 210
Minneapolis, MN 55403
Tea breaks and vegetarian potluck lunch served at the retreat center. Bring a vegetarian dish to share, if you wish.
If you would like to volunteer at this retreat, please call Kelly O'Neil at (952) 201-1053, or email Kelly O'Neil.
Suggested donation: $60 via PayPal or via cash or check offered on the day of the retreat.
If you need assistance with retreat registration, please call our Registrar, Colleen, at (520) 404-8489, or email Colleen Hartwell.
Khenpo Sherab Sangpo will teach on the Je Tsongkhapa Lobzang Drakpa's fourteen verses on the three most important aspects of the Buddhist path: renunciation, bodhicitta, and wisdom. This short text (Tib. ལམ་གཙོ་རྣམ་གསུམ་, Wyl. lam gtso rnam gsum) has been translated into English as Three Principal Aspects of the Path.
Khenpo Sherab Sangpo received this text from his root teacher, Khenchen Jigmé Phuntsok, on many occasions.
Please join us for this precious opportunity to receive these teachings essential to understanding the Buddhist path along with guided meditations on generating a mind filled with pure renunciation, pure motivation of bodhicitta, and wisdom.
Open to all who wish to practice bodhicitta to benefit all living beings.
Image of Je Tsongkhapa Lobzang Drakpa
Video Teachings with Khenpo Sherab Sangpo
The moment of recognizing the gap (between thoughts) is very important. That is your awareness.
Khenpo Sherab Sangpo
Essential Stages of Meditation
In this video, Khenpo Sherab Sangpo offers a retreat on the Essential Stages of Meditation that covers the three aspects of resting the mind in calm abiding meditation (Shamatha, Skt. śamatha; Tib. ཞི་གནས་, shyiné, Wyl. zhi gnas). These three methods are 1) resting the mind (on an object), 2) continually resting the mind, and 3) repeatedly resting the mind. When you have trained your mind to rest on an object of your choice, such as a statue of the Buddha, you will be able to see its peaceful nature. This wisdom arises through being continually aware what the mind is doing and keeping one's attention right there with mindfulness. These methods also help us develop our courage to go beyond hopes and fears (ego's projections) and accept reality as it spontaneously arises moment by moment. Video includes guided calm abiding meditation and advice on how to overcome obstacles that arise during meditation.
Meditation Teachings & Retreat Schedule